SEO in Vancouver, BC
#1 Local SEO Experts in Vancouver, BC
---
Our years of experience and level of expertise has made Stigan Media one of the leading SEO companies in Vancouver. As a local company ourselves, we know the ins and outs of this city. More importantly, we know that our SEO services in Vancouver will help your business stand out and cut through the competition. With our unique approach, our search engine optimization services will help your website dominate major search engines, maximizing your business through our evolving strategies.
Get A FREE SEO AUDIT

Increase Your Organic Traffic & Boost Revenue!
What Is Search Engine Optimization Marketing?
---
Tips On Hiring an SEO Specialist
Search Engine Optimization (SEO) is a marketing strategy focused on growing your website's visibility in organic or natural (non-paid) search engine results in Google and Bing. SEO includes technical requirements on-page and off-page to help drive traffic and increase the number of pages indexed by search engines. As a result - an increase in the number of potential customers, real sales and earnings, the company, which hired us for the search engine optimization Marketing. Our SEO company in Vancouver can help you with that.
Quick SEO Guide
How Does SEO Work?
Why Does My Website Need SEO?
Who Should I Hire To Do SEO?
Create A New Website With SEO?
Vancouver SEO Company
This is a competitive city to run a business in; making it easy to get overlooked if you're not utilizing modern strategies. While competitive, bringing in local business is not impossible with the best SEO in Vancouver. Whether you are building a website from scratch or want to optimize the results of your existing one, Stigan Media provides strategic methods to maximize your profits and further your exposure.
Our experience working with all sorts of different industries has made us Vancouver search engine optimization experts. From accountants, lawyers, and realtors to roofers, electricians, dentists, home contractors, and more, our team can cater our Vancouver SEO services to suit your needs. More importantly, our strategies will set you apart to boost organic growth and grant you city-wide exposure.
Local SEO and Google My Business?
When's the last time you scrolled past the first page on Google? The hard truth of modern business is that to be on top, your company needs to rank high on people's search engines. Luckily, our Vancouver SEO services can help you get there. Depending on your target demographic, we will optimize your website with local SEO Vancouver keywords to help you snag that top spot on Google, bringing you higher ranking and better business.
SEO Strategy
We don't consider ourselves "Vancouver SEO experts" for nothing. To bring you results, our team finds the fastest, most efficient methods to help your business achieve page-1 Google rankings. Using A.I. systems, we will determine which metrics require focus by reverse-engineering the Google Algorithm to identify highly searched keywords relating to your industry. Not only will this improve your company's visibility in searches, but it will also transform your website into a targeted ad for your key demographic. Grow your business while you sleep with our search engine optimization services!
SEO Content
While your website should prioritize Vancouver SEO to boost business, the quality of the content is just as important. SEO strategy requires more than throwing random keywords on a homepage. We want the content to flow naturally and be integrated flawlessly. To give you the best SEO in Vancouver, our team is relentless when it comes to delivering advantageous results in the shortest amount of time. Simple, strategic, and succinct: that's what makes us the go-to SEO company in Vancouver.
Why Does My Website Need SEO Services?
The major part of online traffic is conducted by search engines, Google, Yahoo and Bing have seen the most traffic. Social media is another great way to drive traffic to your website, however, in the world of advertising, we should consider social media as display advertising and not directional marketing. The difference is when someone is in need of your product or service, they search for specific keywords and usually include a city or town in their search. In 2016, we saw an increase in the number of search results that included the words 'near me'.
As search engines evolve and continue to learn more about our behaviour, they will only get smarter and want relevant content related to local search (e.g. "vancouver search engine optimization"). Our SEO company located in Vancouver, BC can help you with that.
What company should be hired for search engine optimization?
Chances are, you've been emailed several times or you've received multiple calls from companies who claim to 'work with Google' or 'has Google listings Available for your business'... These companies might not be the right fit for your SEO or marketing team.
At Stigan Media, we are experts in search engine optimization. Our SEO agency want your business to rise in the search engine ranks. Google's methods to grade your site's standings are constantly changing, so your website should as well. That's where we come in.
Once we better understand your business and learn what your company goals are, we will develop a local SEO strategy that focuses on the current performance of your website, based on an initial SEO report we generate with our SEO Auditor.
Once we determine the plan of action we implement the changes to your website, this is called On-Page SEO.
Building SEO For Your Website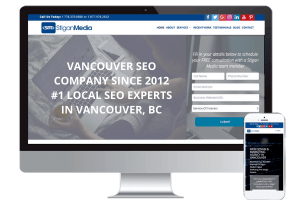 If you're in the market for building a new website, you should consider adding some of the search engine optimization elements to your website during the build!
For example, when you send your images to your web developer, chances are they won't rename the files for you. If you take the time to rename all the images you want to use on your new website, not only will it be easier for the developer to know where to place the images, it makes it easier for search engines to determine what is on the picture! Additional tasks are required within to complete the search engine optimization on an image like including 'alt-tags' and compressing the file size.
Consider Local Business Search Engine Optimization In 2022
One extremely important aspect of Search engine optimization is Local SEO. With effective Local SEO, people can find your business when they conduct their search in apps like Google Maps and Apple Maps. And this method of searching is growing in popularity.
What's more, Google recently made changes to its map apps. Before the top seven options appeared, now it's only three. Your competition just got that much tighter.
Happy SEO customers
---
Cases Our Best SEO for Vancouver Businesses. We have been working with clients in North America
---
We have been working with Sandro at Stigan Media for over a year now. Sandro created and is hosting our new website and directing SEO ... Read more

I would highly recommend Stigan Media for website design and seo work! If you want a great looking website and want to be high on google searches then this company is the best ... Read More

Quick and efficient service!! I would highly recommend 🙂
See More Happy Customers
Why Choose Stigan Media As Your SEO Company in Vancouver?
---
Unlike other Vancouver SEO companies, Stigan Media has been working in web development before it became mainstream. As the "#1 Local search engine optimization Experts in Vancouver, BC," we don't just promise results, we deliver them. Through our many years of providing the best SEO in Vancouver to local companies, our efforts, talents, and results have been recognized. We are so proud to have been named Canada's "Top Web Designers" and one of the "Top Marketing Agencies" by Clutch through 2018 to 2020.
While industry recognition is appreciated, above all else, we prioritize our clients' satisfaction and feedback. That's why we have dedicated decades of hard work and determination to help companies grow their businesses organically. We are continuously uncovering ways to help our clients be seen, accessible, and high-ranking within the digital community. If you've searched for "Vancouver SEO Company" or "Vancouver SEO Expert" and landed on our site, you've found a company that not only delivers excellence, but cares about its clients throughout the process.
It's time for your business to stake it's claim at the top of every search engine, and Stigan Media is the company to get you there.
Stigan Media — Best Vancouver Search Engine Optimization Agency
Chances are, you've heard from several search engine optimization companies in Vancouver; some who claim to be Google partners, others offering Google listings for your business. While it may seem like a promising path to follow, these companies probably aren't the right fit when it comes to SEO and marketing. But Stigan Media could be…
If you're looking for SEO specialists in Vancouver, Stigan Media is the best fit for you. We will develop a thorough understanding of your company and learn about your specific goals. Using the data from a localized SEO audit in Vancouver, we will construct a plan that utilizes Vancouver SEO to further the performance of your website. Once we determine the plan of action, we will implement On-Page search engine optimization and make the necessary changes to your website.
Stigan Media provides search engine optimization services for many business industries e.g. medical clinics, lawyers, realtors, e-commerce stores as well as we do SEO for cannabis industry in Canada.
However, we go beyond the strategies of SEO to bring a full-fledged and streamlined user experience to your website. No one likes to waste time waiting for a page to load. A part of our Vancouver search engine optimization services includes Website Speed Optimization – meaning we not only help users find your site through SEO, but we also help turn those clicks into conversions with a fast-loading, easy-to-use website.
Our Knowledge in Search Engine Optimization
At Stigan Media, we're proud to have the top SEO consultants in Vancouver on our team. Our experts work tirelessly to provide your business with Vancouver SEO that is top-ranking and begets continuous results. What do we mean by this? Our goal is to help your business rise in the search engine ranks. And since Google's ranking methods are constantly changing, your website needs to as well. That's where Vancouver SEO consulting comes in. To keep your website relevant, current, and optimized, it needs to be audited and updated regularly. With the help of our search engine optimization agency in Vancouver – and our experienced, highly-trained search engine optimization consultants – we're dedicated to not only getting your website on top but keeping it there.
Our SEO Services: Web Design, Copywriting, Strategy
No matter your business, Stigan Media has the digital solutions to make it shine. Outside of our SEO services in Vancouver, we offer web design, copywriting, and digital marketing strategies to optimize your online presence.
As a Vancouver-based web design company, we provide strategic methods to build custom-branded websites that are tailored to your business. Using innovative designs, effective calls to action, and concise, compelling copy, our web design will turn your visitors into loyal customers. As specialists in WordPress development, we use web design and Vancouver SEO to help generate ongoing revenue and leads for your company. From smooth and functional e-commerce sites to detailed, customized contractor sites, we know the ins and outs of building a website specific to not only your industry, but your unique company. Leaders in Vancouver web design, we have built over 450 websites that are healthy, profitable, and continuously optimized.
It's one thing to get users on your site, now you want them to explore it. While the visual message of your brand is important, so are the words on the screen. To encourage users to click through your website, the copy needs to grab their attention right away. It needs to be concise, compelling, and creative, while also utilizing important keywords. As such, our Vancouver SEO consultant and copywriting teams work together closely to not only invite users but captivate them with great web content. Whether it's editing your current content for clarity, grammar, and SEO, or helping your website stay visible in search engine rankings through regular blogs, our copywriting professionals are equipped with cutting edge knowledge and market trends to make your business stand out.
Lastly, to compete in modern business, your company needs to utilize the latest in marketing and digital strategies. With Stigan Media, we can help determine which strategies are best suited to your business to ensure digital visibility. Our marketing and search engine optimization consultants in Vancouver can turn your ideas into a reality to make your brand stand out. With cost-effective campaigns and forward-thinking strategies, our consultants can prevent company losses, rebrand your business, and bring greater awareness to your products and services.
More than just an SEO company in Vancouver, Stigan Media is an all-round digital marketing agency that will optimize your business, one step at a time.
Let's Chat!
---
Contact us to schedule a meeting for a free audit and receive a no-obligation quote!