Vancouver SEO Company
#1 Local SEO Experts in Vancouver, BC
---
At Stigan Media, our years of experience and expertise makes us one of the leaders in SEO in Vancouver. SEO is more than just throwing in keywords on a page or simply writing an article on the topic. There is a lot that goes on behind the scenes so that your domain stays in good health. Consider Vancouver local SEO company like ours to drive your local results!
Staying ahead of the curve in SEO will translate into higher profits for your company. Don't get left behind. Stigan Media will help you climb the ranks so your business can thrive.
Search Engine Optimization (SEO) is a marketing strategy focused on growing your website's visibility in organic or natural (non-paid) search engine results. SEO includes technical requirements on-page and off-page to help drive traffic and increase the number of pages indexed by search engines. Our SEO company in Vancouver can help you with that.
Quick SEO Guide
How Does SEO Work?
Why Does My Website Need SEO?
Who Should I Hire To Do SEO?
Create A New Website With SEO?
How Does SEO Work?
Most people start their research online, whether it's directions, or looking for a product or service to purchase. For the most part, unless conducting research, the average person doesn't click to the second page of a search engine results page.
By incorporating keywords, phrases, videos, links and other rich content into your website's pages, your site will become more visible to search engines. With good SEO, your customers can find you right away. And our Vancouver SEO consultants will help you to reach your goals.
Basic SEO strategies include proper titles for each page, writing page descriptions and adding keywords throughout. Be careful not to get caught keyword stuffing, this is never good. There are several tasks involved when doing proper SEO, in fact, there are rumours that Google looks at over 200 ranking factors. Our Vancouver SEO experts aware about all of them.
If your website is a few years old and it still doesn't appear when searching for your industry related keywords, you might have negative SEO that you didn't know about.  Have a look at the backlinks pointing to your domain and disavow them immediately. Not sure what we mean? Give us a call and our SEO agency, located in Vancouver, do our best to help you.
Why Does My Website Need SEO Services?
The major part of online traffic is conducted by search engines, Google, Yahoo and Bing have seen the most traffic. Social media is another great way to drive traffic to your website, however, in the world of advertising, we should consider social media as display advertising and not directional marketing. The difference is when someone is in need of your product or service, they search for specific keywords and usually include a city or town in their search. In 2016, we saw an increase in the number of search results that included the words 'near me'.
As search engines evolve and continue to learn more about our behaviour, they will only get smarter and want relevant content related to local search (e.g. "vancouver search engine optimization"). Our SEO company located in Vancouver, BC can help you with that.
Who Should I Hire To Do Search Engine Optimization?
Chances are, you've been emailed several times or you've received multiple calls from companies who claim to 'work with Google' or 'has Google listings Available for your business'... These companies might not be the right fit for your SEO or marketing team.
At Stigan Media, we are experts in SEO. Our SEO agency want your business to rise in the search engine ranks. Google's methods to grade your site's standings are constantly changing, so your website should as well. That's where we come in.
Once we better understand your business and learn what your company goals are, we will develop a local SEO strategy that focuses on the current performance of your website, based on an initial SEO report we generate with our SEO Auditor.
Once we determine the plan of action we implement the changes to your website, this is called On-Page SEO.
Building SEO For Your Website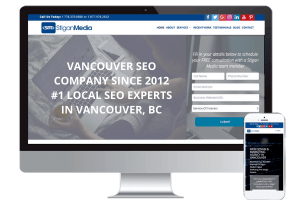 If you're in the market for building a new website, you should consider adding some of the SEO elements to your website during the build!
For example, when you send your images to your web developer, chances are they won't rename the files for you. If you take the time to rename all the images you want to use on your new website, not only will it be easier for the developer to know where to place the images, it makes it easier for search engines to determine what is on the picture! Additional tasks are required within to complete the SEO on an image like including 'alt-tags' and compressing the file size.
Consider Local Business SEO In 2022
One extremely important aspect of Search engine optimization is Local SEO. With effective Local SEO, people can find your business when they conduct their search in apps like Google Maps and Apple Maps. And this method of searching is growing in popularity.
What's more, Google recently made changes to its map apps. Before the top seven options appeared, now it's only three. Your competition just got that much tighter.
Why Choose Stigan Media For SEO Services?
---
Meet The Last Digital Marketing Agency You Hire.
---
No matter your business needs, our team of marketing experts will work with you. Our methods get results.