Stigan Media Inc is excited to announce our recent award in the top 1% of over 160,000 companies featured on Clutch. We are one of only seven companies based in Vancouver, Canada to be featured in this top 1,000. Our web design and marketing services include search engine optimization and logo work. We are also well versed in a variety of industries including advertising/marketing, financial services, and health care/medical.
Clutch ranks businesses based upon reviews which its team conducts with past clients of various agencies and consulting firms. Based in Washington, D.C, Clutch analyzes these reviews and creates "Leaders Matrices" of high performing service providers in specific industries. Stigan Media Inc is placed as number seven on the Leaders Matrix for top web designers in Vancouver.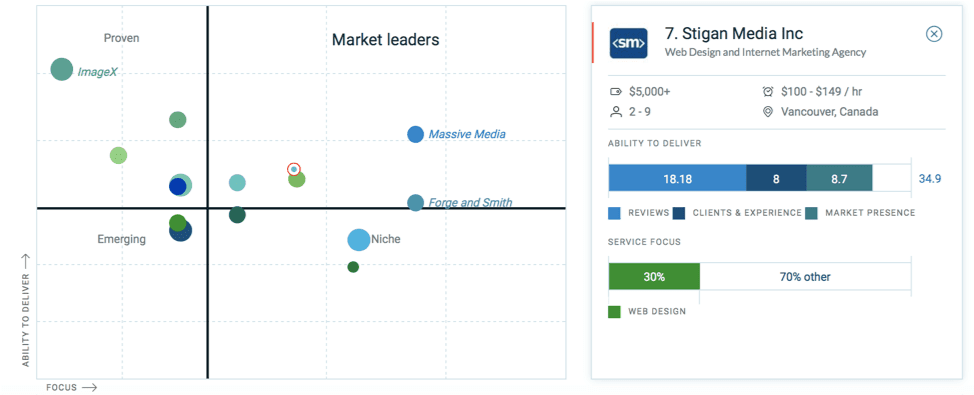 Clutch has expanded to include two sister sites. The Manifest is a company resource which provides how-to guides, industry resources, and shortlists of companies. Seen below is our profile on The Manifest highlighting a past project and some former clients.

Visual Objects is a business portfolio site which shows the creative side of companies around the world. This is especially important for web designers because it shows companies examples of what their design projects could look like!
"We're so pleased to be recognized by an elite company like Clutch, a lot of our clients tell us this is one of the main reasons why they chose to work with us. Thanks Clutch!" – Adwin Lui, Founder at Stigan Media
Our blog site offers many resources, so we recommend everyone to take a look. For any comments or inquiries, contact us today!
Stigan Media is an award-winning web design & marketing agency specializing in WordPress, WebFlow, and Shopify. Our team focuses on SEO, PPC and conversion optimization strategies to help your company grow.