We Are an SEO Agency Specializing in Marijuana & Cannabis Industry
---
Stigan Media is a team of cannabis SEO experts. We specialize in helping businesses grow their reach and increase their profits locally and internationally through targeted campaigns that focus on organic growth. From cannabis dispensaries to eCommerce-based businesses, we have helped many companies rank locally, nationally, and globally through our strategic use of cannabis SEO.
Get a free SEO Audit

Increase Your Organic Traffic & Boost Revenue!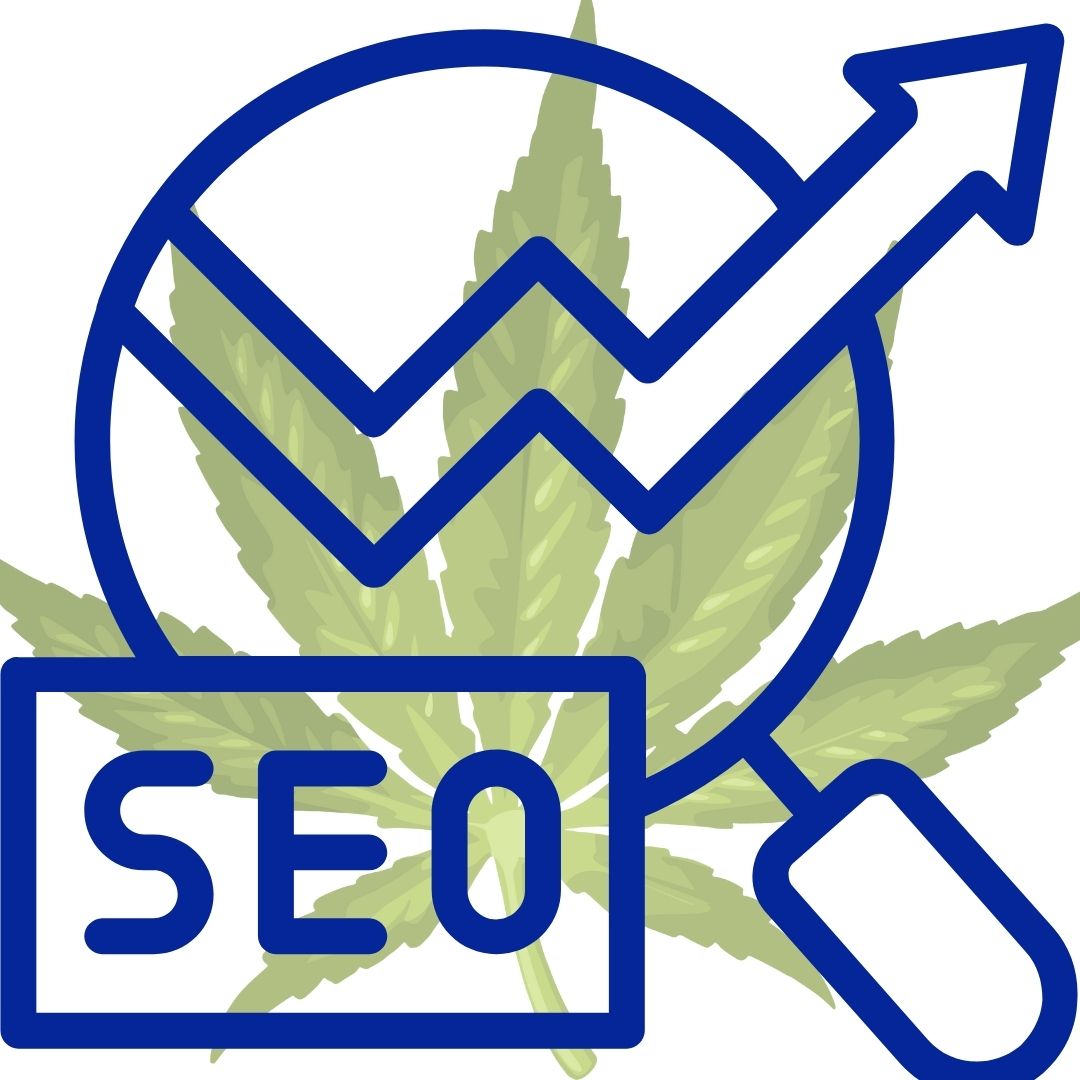 SEO for Marijuana & Cannabis Companies in Canada & US
Search Engine Optimization (SEO) is a marketing strategy focused on growing your website's visibility in organic or natural (non-paid) search engine results in Google and Bing. SEO includes technical requirements on-page and off-page to help drive traffic and increase the number of pages indexed by search engines. As a result - an increase in the number of potential customers, real sales and earnings, the company, which hired us for the SEO Marketing. Our SEO company in Vancouver can help you with that.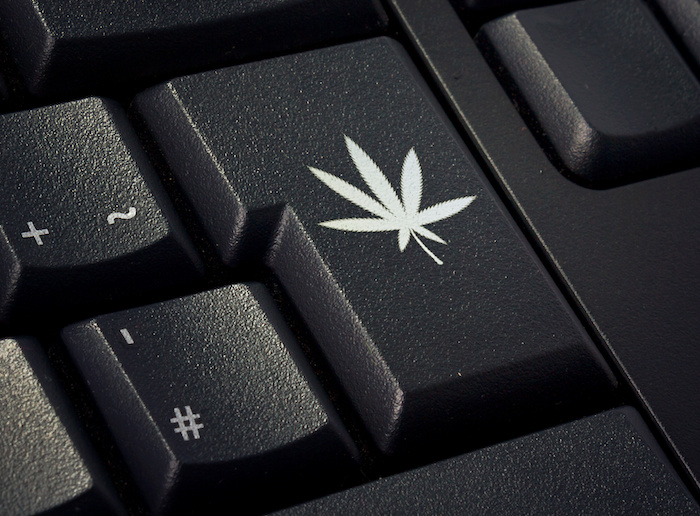 SEO for Cannabis in Vancouver, BC
This is a competitive city to run a cannabis business in; however, through our strategic cannabis SEO services, we can ensure your company receives maximum exposure. Prior to making any adjustments to your campaign, our team will conduct localized research to see which keywords are worth optimizing for. From scouting the competition and researching monthly search volume to strategizing which keywords are most relevant to your business and overall objective, we will create a customized plan of action to increase your visibility. As experts of SEO for cannabis in Vancouver, Burnaby, Surrey, New Westminster, and many more cities throughout BC, our team will turn clicks into conversions using modern strategies.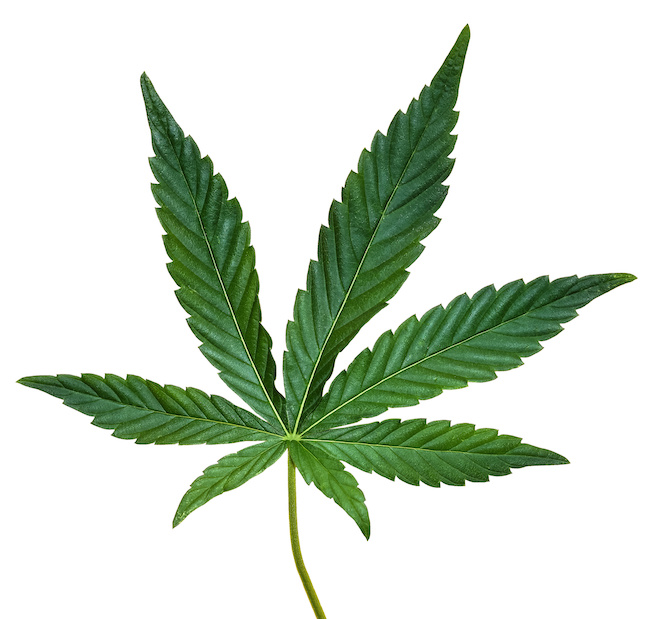 Cannabis SEO Case Study
Please note: names have been redacted from this case study to protect the security and privacy of our client.
Our team's cannabis SEO services have helped a local weed delivery company gain online and local success through targeted campaign tactics. Despite the challenge of not being able to advertise dispensary related content on platforms such as Facebook and Google, we were still able to achieve high search rankings and increased online visibility. By pursuing a campaign that focuses on SEO for cannabis, our client's optimized website, regular content creation, and improved social media management has helped them dominate British Columbia's market and get into Ontario. All of which was achieved organically, without the help of expensive advertising.

Another hurtle dispensaries face is their need to have an age-gate on their websites. This type of restriction can severely limit our efforts to boost SEO for cannabis if proper measures are not taken. For example, an age-gate that redirects users would make it difficult for Google Bots to identify the content on the page, negatively affecting your company's search rankings. Instead, our solution features a custom-coded workaround that keeps the age-gate modal hidden for a period of time, allowing the Google Bot to crawl the pages and identify all targeted keywords.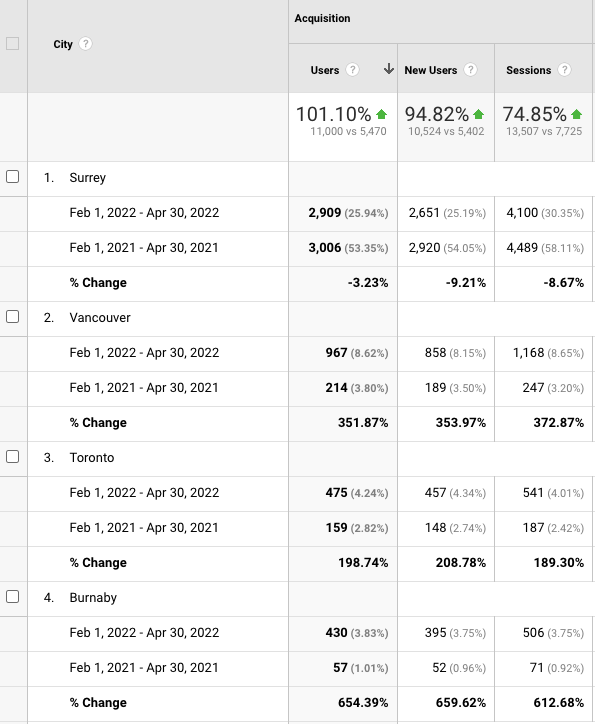 *As a result, our cannabis SEO experts helped our client achieve page-1 Google rankings quickly and efficiently. Between Feb-May 2021 and Feb-May 2022, our client's monthly visitors have grown from 1823 to 3667, all through organic SEO practices. With continued efforts to rank for more keywords and areas through content creation and web optimization, our local client will continue to dominate cannabis SEO in Canada. *
Locally or globally, our ability to improve SEO for cannabis knows no bounds; we help businesses gain visibility, increase conversions, and maximize their profits through an organic, ad-free approach. Our local SEO services will help you gain visibility by bringing you to the top of Google Search and Google Maps, helping nearby customers find you first. For eCommerce businesses looking to widen their scope with global visibility, we will shift our focus from Google Map optimization to national link building efforts. All in all, improving local SEO for cannabis in Canada and the USA is profitable, affordable, and accessible when working with our in-house cannabis SEO experts.
Locally, our team has provided cannabis SEO services to several BC cities including:
Abbotsford
Burnaby
Coquitlam
Campbell River
Chilliwack
Delta
Kamloops
Kelowna
Langley
Maple Ridge
Nanaimo
Nelson
New Westminster
North Vancouver
Penticton
Prince George
Richmond
Surrey
Vancouver
Victoria
About SEO Agency Stigan Media
If you're looking for a cannabis SEO agency to help you improve rankings, increase visibility, and reap continuous rewards, Stigan Media is the team for you. If you're wondering what makes Stigan Media the perfect partner in business, we…
Have experience and expertise in the cannabis industry
Have created over 450 websites, have a client base that exceeds 580, and are affiliated with more than 185 partners in business
Provide unique marketing campaigns that are specific to your business and incentives
Provide an affordable alternative to expensive ad campaigns by focusing on organic growth through cannabis SEO strategies
Have a thorough understanding of policy and regulations within the cannabis industry
Keep you informed through regular reports of search engine rankings and growth
Have a dedicated team of web designers, digital marketers, copywriters, and SEO specialists to optimize your online presence as a whole
Happy SEO customers
---
Cases Our Best SEO for Vancouver Businesses. We have been working with clients in North America
---
We have been working with Sandro at Stigan Media for over a year now. Sandro created and is hosting our new website and directing SEO ... Read more

I would highly recommend Stigan Media for website design and seo work! If you want a great looking website and want to be high on google searches then this company is the best ... Read More

Quick and efficient service!! I would highly recommend 🙂
See More Happy Customers
Our SEO process involves several steps. First, our team will research which keywords are worth optimizing for based on your business, local competitors, and search volume. This allows us to create a comprehensive plan of action to center the rest of your campaign around.
Following our keyword research, it's time to optimize your website through improving load times, increasing SEO for cannabis on existing pages, building new pages to rank for additional key content, optimizing meta descriptions, inserting title tags, and more. Together, this improves your technical and on-page SEO to streamline your website and encourage conversions. Just as on-page content is important, backlink building is also crucial to snagging that top spot on Google which is achieved through improving off-page SEO. How do we do this? Our team will create relevant backlinks that direct visitors to your website to gain even more local and global traffic.
While these efforts help guide visitors to your site, we understand this isn't enough to improve your business profits. Therefore, our goal is to use cannabis SEO to direct qualified visitors to your website and then streamline your pages to encourage click-through, ending with them making a final purchase. This process is called conversion optimization and it is unfortunately overlooked by many SEO agencies; however, at Stigan Media this strategy is prioritized. Whether it's through Google optimization for increased visibility, local citation buildouts to improve the digital legitimacy of your business or building campaigns to encourage Google Reviews through email marketing tactics and incentives, our cannabis SEO process is widespread and effective.
Let's Chat!
---
Contact us to schedule a meeting for a free audit and receive a no-obligation quote!