Since 2009, Stigan Media has used experience and knowledge to help companies from struggling in the dark with their online efforts. We pride ourselves in helping take the guesswork out from their journey to success.
Our clients have experienced what we had to offer and rewarded us in kind. Thanks to their help, we have been reinstated as a top SEO company in Canada by Clutch for the year 2022.
For those unfamiliar with their work, Clutch is a B2B review platform that provides the industry with fact-finding research efforts. Through the use of a unique verification system, they collect authenticated reviews that determine the performance of the companies in their consideration pool.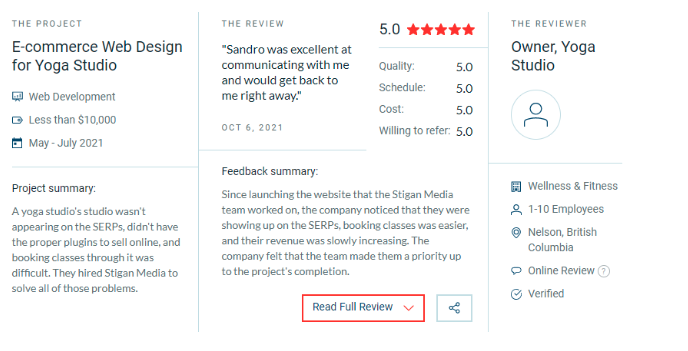 Stigan Media has found itself on Clutch's 2022 list of top performers because we were able to earn several high-quality reviews like the one above. This is what our Founder had to say when we were informed that we are once again an industry leader in Canada.
"We're so pleased to be recognized by an elite company like Clutch, a lot of our clients tell us this is one of the main reasons why they chose to work with us. Thanks, Clutch!" Adwin Lui, Founder of Stigan Media.
We recognize that the only reason that we are in this position is because of the effort our clients take in sharing their thoughts in these reviews. This is why we will always work to ensure that our partners are as happy as possible with the results we deliver.
Stigan Media provides SEO services for many business industries e.g. medical clinics, dentists, lawyer companies, real estate agencies, home repair services, e-commerce stores as well as we do SEO for cannabis industry in Canada.
Please visit our website to learn more about the services that we offer. If you like what you see, don't hesitate to contact our team by phone or email for your next project.
Stigan Media is an award-winning web design & marketing agency specializing in WordPress, WebFlow, and Shopify. Our team focuses on SEO, PPC and conversion optimization strategies to help your company grow.